A Northern Westchester hidden gem, where anyone can find their next great round of golf
To a golfer, there is a unique thrill in playing a new course. Each new hole is an exploration. Columbus had the New World, Lewis and Clark the West; golfers have that long-looking par 4 with a dogleg right. Plus, what's better than a built-in excuse? New trap locations, yardages, ridges, and irregularities come in handy when justifying those double bogeys.
There's something to be said of familiarity, though. There's something in getting to know those yardages, ridges, and irregularities. Golf is a tough sport, and it's only after repetition that you can begin to feel comfortable. The less one has to think about what club to use or where to aim, the easier it becomes to concentrate on the shot itself.
The quicker you become familiar, the quicker everything else is allowed to take shape. That includes your ideas of tradition and plain old fun.
You get familiar quickly at Pehquenaconck Country Club in North Salem, NY. You play each green twice by the time you're done with 18, but it doesn't end there. Familiarity is everywhere at PCC.
It starts with the course…
The course is not easy, but there's a feeling of easiness about it. Maybe that's because you don't need a tee time when it's open to the public (though it would be a good idea). Walk up or call at the last minute, and you'll most likely get on. Or maybe it's because there's no curmudgeonly old starter, smoking cigars and making you abide by a certain pace of play with a watchful eye. PCC by no means encourages slow golf, it just trusts golfers to have fun and let other groups play through when necessary.
Certain elements of the course get ingrained in the memory after a single time through, like the massive uphill par 3 where landing on the green is a "do or die" proposition. Rarely is it so imperative to hit a pitching wedge the way it's meant to be hit.
The slanted green on the 3rd hole knows not the term "lag putt." Your strategy is this: hope your approach lands close to the pin, then hope your putt goes in, and if it doesn't, brace for disaster.
A few holes later sits the short par 4. You can drive the green on your best day, even though most players swing too hard in attempt and suffer the consequences in accuracy.
What you find is that it's a short course long on character. The maintenance crew takes care of the course, and the course takes care of its golfers. Over at the bar and grill, patrons are taken care of with ice-cold domestic and import beers, grilled hot dogs, and weekly lunch specials like the pulled pork sandwich. Golfers that frequent public courses think that a boiled hot dog and a Milky Way constitutes a sufficient lunch at the turn, but they will be relieved and perhaps surprised to know that this clubhouse puts a little more on your plate.
Then, there are the members…
These are the regulars who can be seen on the course and in the clubhouse weekend in and weekend out. A membership is $1,050 per season, and then $650 for a second family member, such as a spouse or sibling. Members enjoy reserved tee times Saturdays and Sundays until 11am, and a host of tournaments throughout the season, culminating in the club championship in late August.
An associate membership (18-35 years old) is $700, and a junior membership (under 18) is $375. Half-season memberships are offered toward the end of July. Want to play only on weekdays? There's a membership for that, too ($525)
Longtime member Kevin Dwyer says it starts with the people: "what I really like is the relaxed atmosphere. It doesn't matter where you come from. If you're a nice guy or lady, you've got friends automatically.
"As for the course, it's short enough where beginners can enjoy it and have a chance for a good hole. For good players, there are tight greens that require you to play precision golf, and that translates and helps you when you go to play a longer course in the area."
There are the weeknight leagues…
For info on league membership availability and rates, feel free reach out to PCCGolf18@gmail.com or call 914-669-6776.
Now, there is the kids clinic…
PCC has always welcomed kids, but now there is a clinic dedicated to helping them get a solid foundation and providing an opportunity to fall in love with the game. Isn't it every golfer's dream to one day have the kids play too?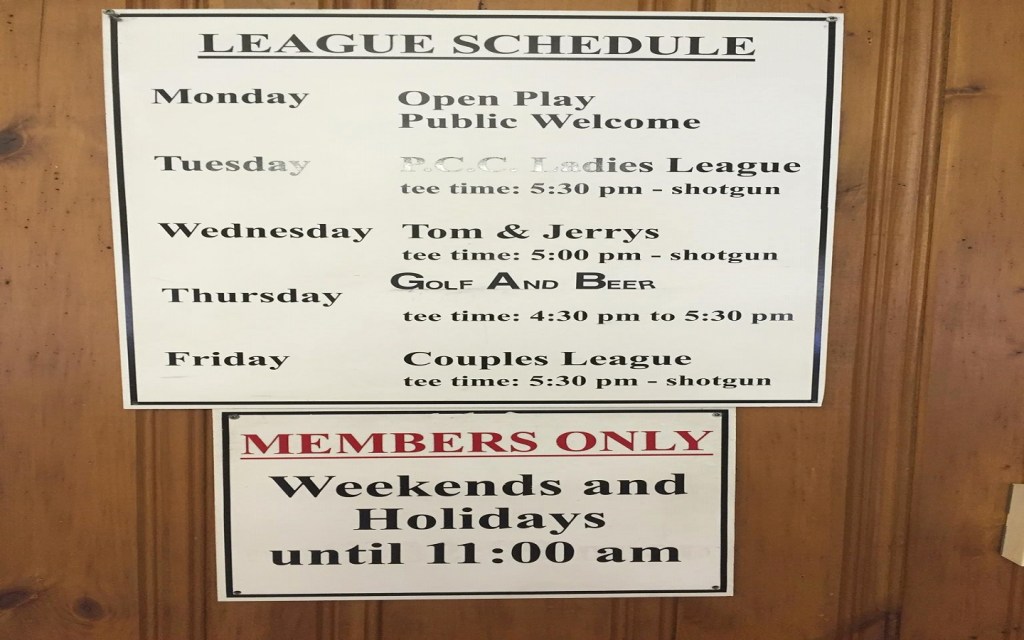 For dates of the kids clinic and pricing, feel free to reach out to PCCGolf18@gmail.com or call 914- 669-6776.
And then there's everybody else…
You don't need a tee time, though it would be a good idea. Golf is open to the public except for weekends from open until 11am. Walking 18 on the weekends is $33. Visit the rates page for the full list of greens fees and cart fees.
On any given day, look around the course and you might see:
The father showing some golf basics to his son or daughter in a relaxed environment.
The buddies who now live scattered throughout NY and Connecticut, that congregate here a few times per summer because it's centrally located.
The Westchester native, now living out-of-state, who's visiting family for the weekend and plays here because it feels like home.
The college kids home for the summer, who get out of work at the easy hour of 3:30pm on Monday and need a place where they can walk 9 for college student prices.
There's the woman walking by herself for some much needed "me time" on the course.
There are guys like Golfsmith's Steve, just trying to get a little better.
Whether you shoot 7 over par or a 7 on every hole, you're guaranteed to remember the round you had at PCC.
Every tradition starts with a first try, and PCC welcomes yours this season. You're invited to explore all the quirks and irregularities the course has to offer. Try to "get up the hill" onto the green on no. 4, or see if you can drive the ball to "the ridge" on the 7th par 5.
See how fast you become familiar. Revel in the easy parts, and take on the challenges (frustrations) of the difficult parts. Enjoy everything that gives this course a character all its own.
What constitutes a great round? The beauty of golf is that no two people have the same answer, but everyone has a chance to find theirs at PCC.
---
Pehquenaconck Country Club is located at 101 Bloomerside Road, in North Salem, NY, close to I-84 and I-684.
For a tee time, please call 914-669-6776 or click here.
For other inquiries, please call 914-669-6776 or email PCCGolf18@gmail.com.